GTAplanet - Robot
Terminator



Dabei seit: 02.06.2005
Beiträge: 1.794
Herkunft: GTAplanet.de



Level: 49 [?]
Erfahrungspunkte: 9.827.522
Nächster Level: 10.000.000





| | |
| --- | --- |
| Cunning Stunts DLC jetzt online | |
---
Zitat:
Link zu den News

Schnallt euch an und macht euch bereit, das südliche San Andreas aus einer völlig neuen Perspektive zu erleben.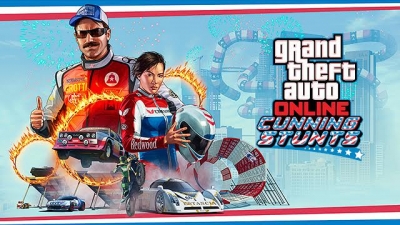 Mit Cunning Stunts erreichen Rennen in GTA Online mit einer Serie von 16 brandneuen adrenalingeladenen Stuntrennen epische neue Höhen. Die Rennen bieten alles von gewundenen Röhrenstrecken zwischen den höchsten Wolkenkratzern in Los Santos bis zu technisch anspruchsvollen Strecken durch Canyons, über Wasser und durch die Wüste. In Stuntrennen kommen Rampen, Loopings, Wall Rides, Röhren, erhöhte Strecken und dynamische Objekte zum Einsatz und verändern das Rennerlebnis in GTA Online auf radikale Weise.

Das gab es noch nie: Strecken, die sich spiralförmig in den Himmel wickeln, Wolkenkratzer-Sprungschanzen, turboschnelle Korkenzieher-Schrauben in 20.000 Fuß Höhe ... und dann gibt es ja auch noch gigantische Kegel und Feuerreifen.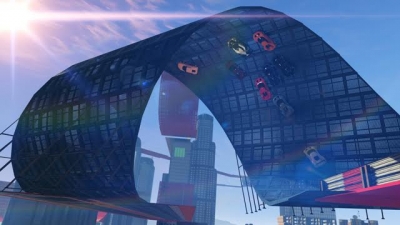 STUNTRENNEN
Die Rennen bilden ein breites Spektrum mit einzigartigen Austragungsorten überall in San Andreas und bieten schwindelerregende Höhen, unglaubliche Geschwindigkeiten und ein schillerndes Spektakel aus Feuerwerk, Licht und Sound - und natürlich Drehungen und Kurven, die euch den Magen umdrehen. Zu den von Rockstar erstellten, zum Start verfügbaren Stuntrennen zählen:

Canyon Crossing | City Air | Downtown Loop | Duel | East Coast | Maze Bank Ascent | Nightlife | Over and Under | Plummet | Racing Alley | Rally | Splits | Threading the Needle | Trench I | Turbine | Vinewood Downhill

Um direkten Zugang zu diesen brandneuen, mit gleichgesinnten Adrenalin-Junkies vollgepackten Stuntrennen zu erhalten, haltet einfach nach den pinken Stunt-Serienmarkierungen Ausschau, die überall in Los Santos und Blaine County verteilt sind und fahrt in eine Markierung, um direkt in eine Reihe von Stuntrennen einzusteigen.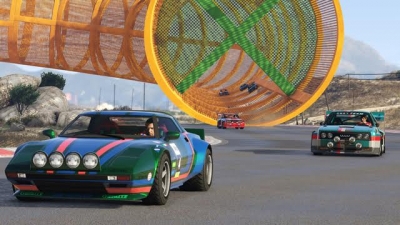 PREMIUMRENNEN
Für besonders erfahrene Rennfahrer, die nach besonders risikoreichen Rennbegegnungen suchen, bietet Cunning Stunts auch neue Premiumrennen, bei denen ihr im Kampf um den Ruhm und die Ehre des alleinigen Siegers gegen sieben Konkurrenten antretet, Wetteinsätze platziert und Vertrauen in eure Fähigkeiten haben müsst, um die Chance auf Siegerprämien zu haben, die höher sind als bei allen anderen Rennen. Und auch wenn niemand außer dem Sieger GTA$ bekommt, werden alle Teilnehmer mit 3x RP belohnt, wenn sie ein Premiumrennen beenden. Um den Wettbewerb zwischen den Elitefahrern fokussiert und ausgeglichen zu halten, sind Premiumrennen an bestimmte Fahrzeuge oder Fahrzeugklassen gebunden und alle Fahrer müssen das spezielle Fahrzeug oder ein Fahrzeug aus der entsprechenden Klasse besitzen. Diese Rennen sind darüber hinaus nur begrenzte Zeit verfügbar – behaltet deshalb den Newswire im Auge, wo wir die wöchentlichen Terminpläne veröffentlichen. Ab sofort und bis Montag, den 18. Juli, könnt ihr in die gelbe Markierung für Premiumrennen am Legion Square fahren, um das für den jeweiligen Tag angesetzte Rennen zu fahren. Blecht euer Startgeld und nehmt es mit sieben Rivalen auf, die alle glauben, es drauf zu haben:


Dienstag, 12. Juli: Maze Bank Ascent (Sportwagen)

Mittwoch, 13. Juli: Duel (Muscle Cars)

Donnerstag, 14. Juli: Splits (Kompaktklasse)

Freitag, 15. Juli: Vinewood Downhill (Motorräder)

Samstag, 16. Juli: Racing Alley (Sportwagen)

Sonntag, 17. Juli: Canyon Crossing (Super-Sportwagen)

Montag, 18. Juli: Turbine (Offroad)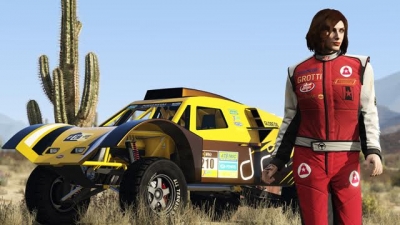 NEUE FAHRZEUGE, BEKLEIDUNG UND MEHR
Eine schöne neue mit Stunts gefüllte Welt wartet in GTA Online und ihr braucht schon ordentlich PS, um mithalten zu können. Aber ihr habt Glück, denn eine Reihe neuer Fahrzeuge steht bereit, um all eure Bedürfnisse zu erfüllen: Vom avantgardistisch aussehenden RE-7B bis hin zum schlichtweg brutalen Vapid Trophy Truck haben wir genau das Richtige für euch, egal wie ausgefallen eure Herzenswünsche sein mögen.

Supersportwagen: Annis RE-7B, Emperor ETR1, Progen Tyrus
Sportwagen: Lampadati Tropos Rallye, Obey Omnis
Kompaktklasse: Grotti Brioso R/A
Offroad: Vapid Desert Raid, Vapid Trophy Truck
Motorräder: Nagasaki BF400, Western Gargoyle
Muscle Cars: Declasse Burger Shot Stallion, Vapid Pisswasser Dominator, Bravado Redwood Gauntlet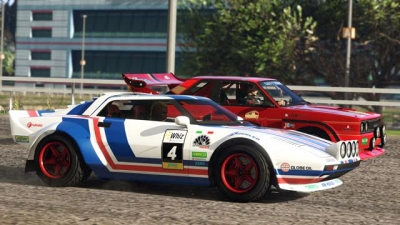 Jetzt neu und in ganz Los Santos erhältlich: Ein umfangreiches Sortiment an extrem auffälliger, durch Rennen inspirierter Kleidungsstücke. Zeigt eure Begeisterung für bestimmte Marken mit entsprechend gebrandeten Rennjacken, deckt euch von Kopf bis Fuß mit Rennbekleidung ein, oder geht mit einem Stuntman-Anzug vollkommen in eurer Rolle auf. Man wird euch zwar nur schemenhaft erkennen, aber das bedeutet nicht, dass ihr dabei nicht gut aussehen dürft.

Außerdem gibt es 50 neue Tattoos und jede Menge neuer Features - zum Beispiel neue Animationen für Helmvisiere und ein komplett überarbeitetes Spieler-Interaktionsmenü, über das ihr euer Standard-Rennoutfit auswählen könnt.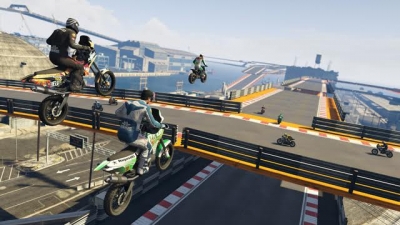 UND JEDE MENGE MEHR KOMMT NOCH, ZUM BEISPIEL DER EDITOR FÜR STUNTRENNEN
Im Lauf der nächsten drei Wochen werden weitere Stuntrennen und Fahrzeuge in GTA Online für Cunning Stunts verfügbar sein, das seinen Höhepunkt am 2. August mit der Veröffentlichung des Editors für Stuntrennen feiert, mit dem die unglaublich talentierte GTA Online Editor-Community die Möglichkeit bekommt, auf Hunderte Stunt-Requisiten und neue Features und Verbesserungen zuzugreifen, um die Stuntstrecken ihrer kühnsten Träume zu verwirklichen.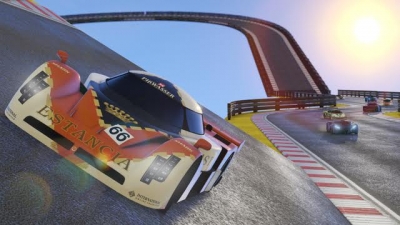 EVENT-WOCHEN-BONI 12. – 18. JULI
Zollt euren Respekt an die glorreichen Tage des Stuntmans Jock Cranley, indem ihr den exklusiven Schwarzen Overall freischaltet, der seinen Namen trägt. Meldet euch einfach im Lauf dieser Woche bei GTA Online an, dann wird der Schwarze Overall der Spezial-Kategorie im Kleiderschrank eures Charakters hinzugefügt. Dieses Outfit ist perfekt, um eure Gegner in der Startaufstellung nervös zu machen, wenn sie eines der neuen Stuntrennen beginnen, oder um die Aussicht zu genießen, wenn ihr auf eurer Nagasaki BF400 auf dem Weg zum Sieg durch einen lodernden Feuerreifen segelt.

Bei den neuen Fahrzeugen zum Kaufen und Sammeln seid ihr bestimmt scharf darauf, genügend Platz in der Garage zu haben, um sie unterzubringen. Nutzt deshalb diese Woche den Rabatt von 20 % beim Kauf von Immobilien mit Garage, EINSCHLIESSLICH Garagen selbst. Das gilt für alle Apartments, Penthouses und Stelzenhäuser. Als wäre die zusätzliche Kapazität zum Parken von Fahrzeugen nicht schon Grund genug, könnt ihr diese Gelegenheit also gleich noch für ein neues Heim nutzen, in dem ihr euch samt eurem Helm ausruhen könnt. Es gibt auch 15 % Rabatt auf ausgewählte Fahrzeug-Modifikationen, wie Brems-, Fahrwerks- oder Motor-Verbesserungen. Stellt sicher, dass euer Schlitten bis zum Anschlag aufgerüstet ist, um bei den ganzen Sprüngen so lange wie möglich in der Luft zu bleiben.